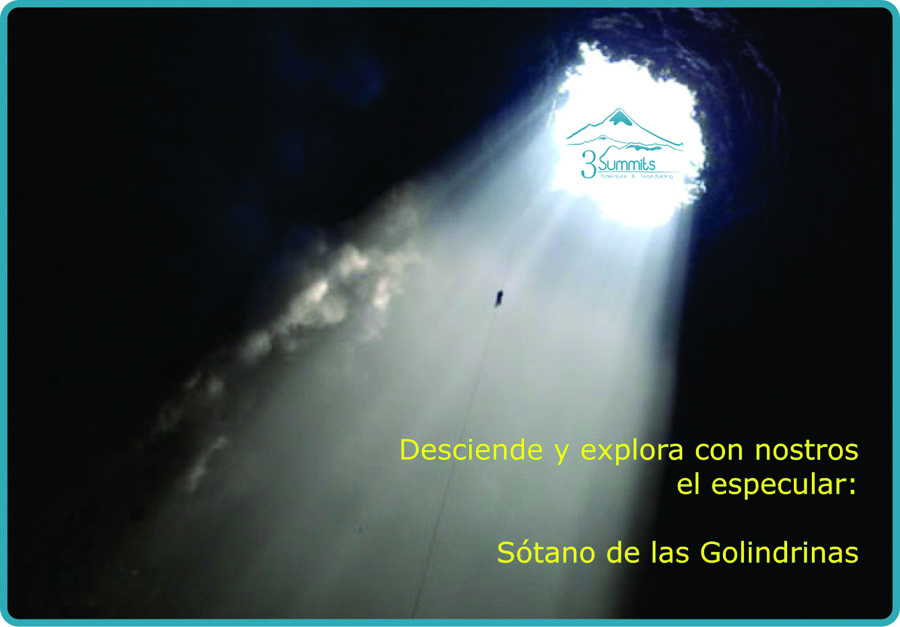 Swallows Cave (Sótano de las Golondrinas)
The "Sótano de las Gondrinas" ( Cave of the Swallows) is a natural abyss of 376 m (12.50 ft.) with a cone like shape which allow a spectacular single free fall to the bottom. For a long time it was considered as the deepest in the world.
To rappel all the way down to the bottom of the cave, just hanging from your harness attached to a rope that gets out of sight on the way down is a most challenging and overwhelming activity than will take you not less than 20 minutes. In the bottom on the cave, the dimensions of the abyss, the green and humid environment, birds noises, etc. will make you believe to be in another planet. Of course, once you are back into your mind, you will realize that the way up is not going to be a easy task and will help for all the training that you've done before. There is only one way out far up and like a distant light. You' will have to ascent the same 376 m on the same rope. Between one hour and one hour and a half of demanding exercise mixed with the adrenaline of being hanging just from a rope awaits you.
A part from the descending activity itself, another worthwhile seeing event that takes place in the Sotano de las Golondrinas is the birds activity. In the abyss wall live more than 2 million birds most of which are white-collared swifts apus apus. This type of birds is commonly confuse with swallows that gave name to de abyss but don't live there. Also the beautiful and shiny green colored Aratinga holochlora parrots, or green conures, make their nests in the walls of de cave.
Every day, after sunrise, birds find their way out in a spiral way to steadily keep gaining altitude, and every day, before sunset, birds have to make a strait and incredibly fast approach to their nest so they can literally cut the upcoming wind currents from the cave. Of course, there is always a few falcons flying in circles around take the change of finding a meal in such a big concentration of birds in one place and in a such short period of time.
¿Do you want to descend and ascend on your own?
We can take you; we have all the experience to guide you down and up and all the equipment necessary. But it's not something just to say "ok let's go". We need to make user that your good shape and that you have all the technical skills required, therefore, before going test if you are able:
You will have to ascent on an ever ending rope for 300 m (985 ft.) in less no more than 45 min.

You have to show us that you are fluent using the equipment and the techniques.
We are sorry, but if you do not pass the test, it's too risky for you to try. Just need to train and practice a little more
¿Do you want us to lower you down and lift you up?
No problem we tie you to the rope and lower you down and lift you up so you don't have to worry whether you are doing things right or not, or getting too tired. Just enjoy this spectacular trip to this unknown world.